Coronavirus vaccine stocks are surging! More to go?
June 25, 2020, 15:02
The race to find a vaccine for the coronavirus is reaching new heights. The World Health Organization (WHO) believes there are more than 50 vaccine candidates in various stages of trials. Investors have been circling companies with strong prospects to be the first to develop a vaccine for Covid-19 which has wreaked havoc on the world over the past few months.
One stock, Inovio Pharmaceuticals (#INO) is already up more than 750% this year and others like Novavax (#NVAX) are up nearly 3,000%. However, trading and investing in such biotech companies is not for the faint-hearted as they can be very, very volatile with huge gap risk – as always, risk management is essential when trading such markets. Nonetheless, other companies are also high on traders' watchlists. Let's take a look!
Coronavirus vaccine shares – the race to the top!
There are currently many different types of companies racing to find a Covid-19 vaccine. These include pharmaceutical giants like Pfizer and GlaxoSmithKline and biotech companies like Moderna, Inovio Pharmaceuticals, Regeneron Pharmaceuticals, and others. Many of these can be traded on with Admiral Markets UK Ltd.
Most of these companies have seen some very volatile price swings during the coronavirus pandemic. Some stocks started as mere penny stocks at the beginning of the year before doubling in value. However, some of them could quickly lose their attraction – and value – if current testing and trials do not go as expected. Let's have a look at a few.
Inovio Pharmaceuticals
Inovio Pharmaceuticals (#INO) started to create a potential vaccine candidate within just three hours of receiving the genetic sequence of the coronavirus. While the company was quick off the market and has set ambitious targets for the year, investors seemingly enjoyed the news that the company received $71 million from the Department of Defense.
This funding is to be used to speed up the manufacturing of its Cellectra 3PSP smart device which is a handheld device that can administer a coronavirus vaccine. The company also received a $5 million grant from the Bill & Melinda Gates Foundation to help speed up the testing and manufacturing of the device.
The company is still in phase one clinical trials for its experimental vaccine which is designed to first test the safety and body's immune response to it. Phase two and three trials are expected later in the year which will test the efficacy of the vaccine.
The long-term, monthly chart of the company's share price below shows the historical volatility of the biotech company, as well as the recent surge higher in 2020.

Source: Admiral Markets MetaTrader 5, #INO, Monthly – Data range: from 1 March 2002 to 25 June 2020, accessed on 25 June 2020 at 1:30 pm BST. Please note: Past performance is not a reliable indicator of future results.
Regeneron Pharmaceuticals
Regeneron Pharmaceuticals (#RGN) was able to identify hundreds of different coronavirus-neutralizing antibodies through recent research. The company has now chosen two of these antibodies for clinical testing which started in early June. The trial consists of four different test groups and include: uninfected people with a high risk of exposure, uninfected people with exposure to a coronavirus patient, self-isolating Covid-19 patients, and hospitalized Covid-19 patients.
The company's first coronavirus vaccine attempt is designed to treat and prevent infection. However, they are also collaborating with partner Sanofi in a second coronavirus effort. This involves the testing of its rheumatoid arthritis drug Kevzara in coronavirus patients deemed critical. This is currently in phase two and three trials.
The long-term monthly price chart of Regeneron Pharmaceuticals' share price below also shows a recent surge higher this year.

Source: Admiral Markets MetaTrader 5, #REGN, Monthly – Data range: from 1 March 2005 to 25 June 2020, accessed on 25 June 2020 at 2:30 pm BST. Please note: Past performance is not a reliable indicator of future results.
Other coronavirus vaccine stocks that are also of notable interest include:
Gilead Sciences (#GILD) – Gilead created an antiviral drug called Remdesivir to treat Ebola patients. They are now repurposing the drug to reduce the recovery time for Covid-19 patients. While the company's share price has pushed higher this year, the movie has been limited as analysts question how they will monetize the repurposed drug.
Novavax (#NVAX) – Novavax's share price is up nearly 3,000% this year after some impressive stats in its early trials and the $384 million funding received from The Coalition for Epidemic Preparedness Innovations. They also received $60 million from the Department of Defense to create 10 million doses of the vaccine for phase two and three trials later in the year.
Moderna (#MRNA) – Moderna has been chosen for the US government's Operation Warp Speed which will spend billions into the quick development of a coronavirus vaccine. The company's vaccine, mRNA1273, is still experimental. While the share price has also surged higher this year, it has come off from its high at the time of writing as analysts began to raise concerns in the company's vaccine trial data.
While there are many other companies also developing a coronavirus vaccine, you now know a little bit more about some of the different companies involved. As the race heats up, how will you be trading it?
One way to help you is to download the Trading Central Technical Ideas indicator completely FREE by upgrading your MetaTrader 5 trading platform to the Supreme Edition provided by Admiral Markets.
This indicator provides you with actionable trading ideas and technical analysis on a wide range of asset classes. To get it free, just click on the banner below and download it today:

INFORMATION ABOUT ANALYTICAL MATERIALS:
The given data provides additional information regarding all analyses, estimates, prognosis, forecasts, market reviews, weekly outlooks, or other similar assessments or information (hereinafter "Analysis") published on the website of Admiral Markets. Before making any investment decisions please pay close attention to the following:
1. This is a marketing communication. The content is published for informative purposes only and is in no way to be construed as investment advice or recommendation. It has not been prepared under legal requirements designed to promote the independence of investment research, and that it is not subject to any prohibition on dealing ahead of the dissemination of investment research.
2. Any investment decision is made by each client alone whereas Admiral Markets AS (Admiral Markets) shall not be responsible for any loss or damage arising from any such decision, whether or not based on the content.
3. Intending to protect the interests of our clients and the objectivity of the Analysis, Admiral Markets has established relevant internal procedures for the prevention and management of conflicts of interest.
4. The Analysis is prepared by an independent analyst Jitan Solanki, Freelance Contributor (hereinafter "Author") based on personal estimations.
5. Whilst every reasonable effort is taken to ensure that all sources of the content are reliable and that all information is presented, as much as possible, in an understandable, timely, precise and complete manner, Admiral Markets does not guarantee the accuracy or completeness of any information contained within the Analysis.
6. Any kind of past or modeled performance of financial instruments indicated within the content should not be construed as an express or implied promise, guarantee or implication by Admiral Markets for any future performance. The value of the financial instrument may both increase and decrease and the preservation of the asset value is not guaranteed.
7. Leveraged products (including contracts for difference) are speculative and may result in losses or profit. Before you start trading, please ensure that you fully understand the risks involved.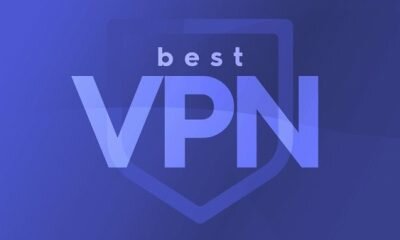 2020 6 Best VPN service to use
Getting the best VPN possible is an important part of the kit to keep your online life as safe as possible in...